Australian born Kelly O'Brien has been entertaining professionally for over 25 yrs.
Kelly first began singing country music at the age of 14. Two years later she was crowned South Australian Country Vocalist of the Year' and 'Best New Talent' at the famous pan-Australian Gympie Muster country festival, securing Kelly her first recording contract.
Kelly's first national television appearance was on the talent show New Faces. Later TV performances would include 'Good Morning Australia', 'Carols in the Domain', and 'Cartoon Network.' Kelly was one of the last 12 finalists in 'POPSTARS 2' on Australian TV in 2000.
In 2002 she secured the lead role in the German production of 'Starlight Express'. This led to a record contract with ZYX music and the release of a German Top 10 single.
Other theatre credits include 'The Hunchback of Notre Dame', 'Tonight's the Night' and 'Hollywood in Concert'.
After moving to the UK, Kelly worked as a freelance singer and actress.
In 2007 Kelly decided she wanted to bring the joy of Dolly Parton to audiences around the U.K.
In 2020 she produced THE DOLLY SHOW theatre show, which she currently tours with her band.
Her UK television credits include ITV's 'This Morning' and 'Lorraine', BBC Breakfast, Channel 4's 'The Last Leg' and 'How to Look Good Naked', X Factor, ITV News, Channel 5 News, Sky News, and BBC One's 'Even Better Than The Real Thing'. Her radio credits include BBC Radio 2's 'Jeremy Vine' and 'Scott Mills' shows. She has appeared in every national UK newspaper.
Kelly has been crowned the UK's best Dolly tribute act (as voted by the Agent's Association of Great Britain) four times running.
Kelly is married to her best friend Ben Verinder and has two children – Oscar and Amber.
She now tours THE DOLLY SHOW around the UK – which she says is the BEST job in the world.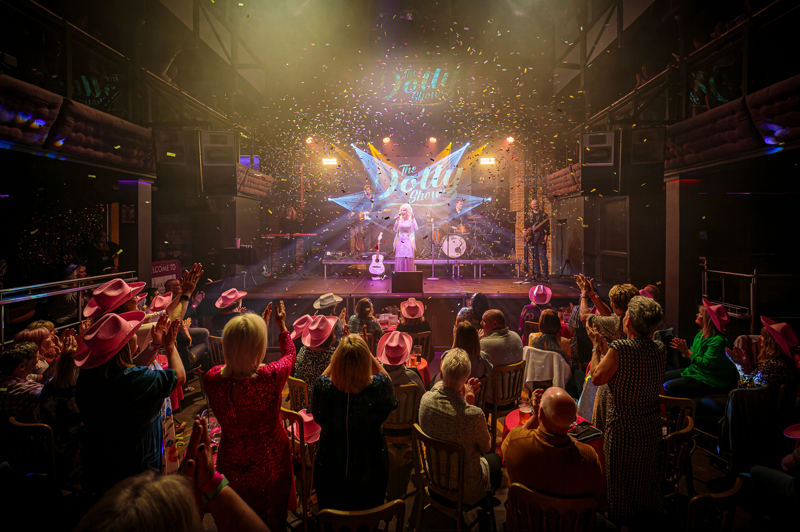 Kelly currently tours the U.K with her theatre show THE DOLLY SHOW to huge audiences around the U.K and Australia.
Her fantastic team travel the country, from Bournemouth to Blackpool. Her tour started in 2021 and rolls out fifty dates a year. See below for ALL DATES!
She also performs Dolly as a solo for private and corporate clients, as well as in cabaret venues and theatres around the world.
Her piano cabaret shows with Kris Rawlinson (her musical director) at the famous Crazy Coqs cabaret in London's West End are always a sell-out.
"Hands down the BEST tribute act I've ever seen. Cannot tell you how on point every single word, walk ad mannerism was. Literally Dolly through and through."
Jackie
"Oh my GOD, seriously AMAZING!! Powerhouse voice on this pocket rocket of a woman."
Dave Thompson
"It was the most uplifting, buxom, glittery love fest ad left us grinning from ear to ear. Fan-girling hard and falling in love with Dolly all over again."
Emma Brown
In 2020 leading fashion and art photographer Alice Hawkins and Kelly met via Instagram, sharing a love of Dolly Parton.
Alice told Kelly about a new book she had been working on for the past eight years and asked if Kelly would like to feature in the book? Kelly jumped at the idea.
Kelly was immediately struck by Alice's incredible talent. She was even more excited to recreate some of Dolly Parton's most iconic looks with her for the book.
Alice says: "Spending a weekend at Kelly's home, capturing her exquisite portrayal and impersonation of Dolly Parton is an experience I'll always cherish. I want to do it again every year, and I'd love to go on tour with her! She also reminds me of Dolly in many ways in her drive and determination, straight talking, attention to detail. Kelly honours Dolly every time she puts her wig and heels on, and I admire her for it."
Kelly says: "Our partnership is a beautiful example of how creative minds can come together, inspire each other, and create something truly special that resonates with both their own artistic aspirations and the admiration they have for the subject of their work."
And in 2023 Alice's book 'Dear Dolly' was published to critical acclaim.
'Dear Dolly' is available here –
https://www.baronbooks.co.uk/product-page/alice-hawkins-dear-dolly
"Well that was just incredible. The Dolly Show is a master class in charisma, magnetism and warmth, and how t handle a crowd with style. Far beyond a tribute act, this is a star mage by someone who is a natural star themselves."
Bunny Galore
"Kelly, you were absolutely amazing. I cannot put into words how phenomenal you are, and how breathtaking you look. My mind is blown!"
Sarah Wright
"Kelly absolutely nails Dolly. Her persona, humour, voice, mannerisms, the way she holds herself… Every little detail. Talent on this level gives goosebumps and tears."
Sandra